Princess V48 – first photos of new sportscruiser
Fri, 17 May 2013
Stewart Campbell

The Princess V48 is making its first ever appearance at the British Motor Yacht Show this weekend, and we have the first photos of the boat on the water.

SEE MBY'S PRINCESS V48 GALLERY

The new sportscruiser is Princess's first ever production IPS boat, and with its black cowling and hardtop coaming, is definitely one of the Plymouth yard's coolest looking boats.

The big hull windows flood the impressive owner's saloon with light, and Hugo, MBY's editor, reported that the "saloon feels amazingly bright and airy".

Head to our Twitter feed to see more photos and updates from the show.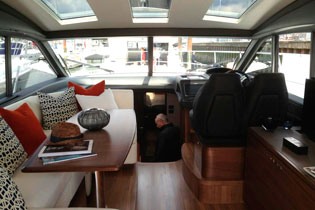 The free-to-enter British Motor Yacht Show, on at Swanwick Marina till Sunday, is the first time the leading distributors of Fairline, Sunseeker and Princess have collaborated to put on a boat show.

You can help us celebrate the inaugural edition of the event by coming on a special VIP sea trial day next Wednesday, where you'll be give the chance to test a new boats from Fairline, Sunseeker and Princess in a single day.

Subscribe to the print version of MBY
Subscribe to a digital version of MBY